Bielsko-Biala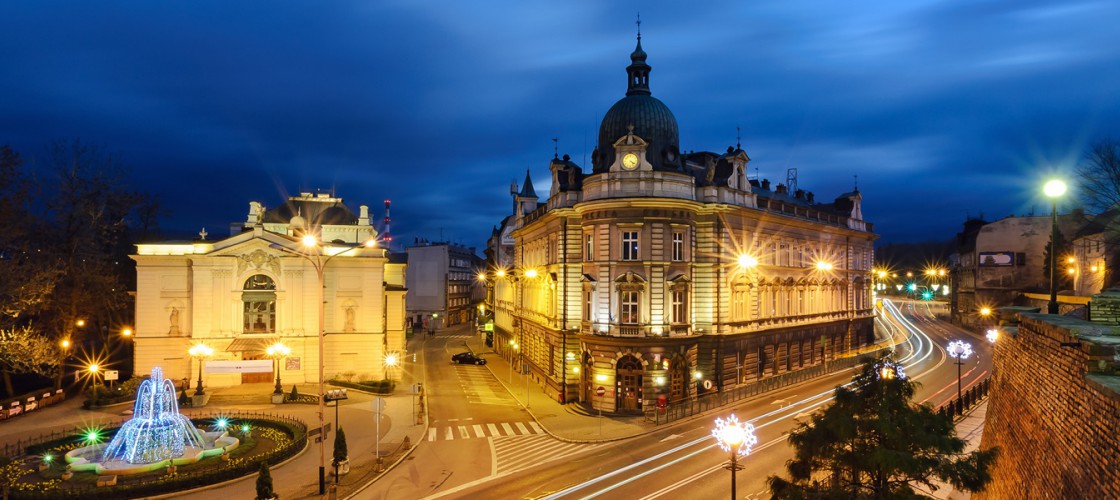 Time in Bielsko-Biala passes slower, and you want slow down, sit on a bench and relax. Everyone has found something for himself/herself: beautiful mountains, marvelous landmarks and monuments, attractions and entertainment. Bielsko-Biala focuses on development and modernity. It is a city strong with active culture, art and entertainment. For many it is known for jazz , classical and church music. It is also place famous for spectacles, volleyball, sailplanes, judo and football.
Bielsko-Biala offers studying at state school - the University of Bielsko-Biala and a few public schools. These are: Bielska High School, The School of Administration, The University of Economics and Humanities in Bielsko-Biała, Bielsko-Biała School of Finances and Law, Institute of Information Technologies and Management.
Bielsko-Biala has got a very interesting architecture: old townhouses, historic factories, churches and a castle. Being in Bielsko-Biala it is worth taking some time to sightseeing. The tour program should not miss such places as the Old Town Hall in neo-Renaissance style, the Museum at the Sułkowski Castle, Weaver's House, which is an example of eighteenth-century wooden building, the Museum of Technology and Textile Industry, Post Office building built on the basis of the pattern of the Austrian postal buildings, Polish Theatre, St. Nicholas Cathedral, Church of the Savior or the railway station building, which impresses with its architecture. Everyone who likes having fun, eat well and rest will have no problem with this in Bielsko-Biala. Regulars appreciate the Castle cellar, which hosts Jazz Soul and Bielska Jazz Zadymka.
At the business meeting you can visit the restaurant at Park Hotel Vienna. If you like beer, you absolutely should visit the Scottish Highlander Pub. In turn, in the shopping center sphere there is Klimat Club, where you can have fun at the disco, bowling or billiards. Those who likes active leisure have at their disposal Błonia Mikuszowickie with a wonderful view of the mountains. Here are three basketball courts, handball field, skate park, playgrounds. It is worth to take a cableway Szyndzielnia. Such trip allows you admire the magnificent landscapes of the Beskid Mountains and the city skyline. Amateur of hiking will be delighted, because there are many hiking opportunities. They have: Błatnia (917 m asl), Magurka Wilkowicka (913 m asl), Klimczok (1117m asl), Dębowiec (525 m asl), Goat Hill (683 m). Citizens of Bielsko-Biala, tourists and students can feel here special. Situated at the foot of the Beskid Mountains the city provides a healthy balance between work, study, recreation, relaxation, and entertainment.
School list
University of Economics and Humanities in Bielsko-Biała
Jozef Tyszkiewicz Higher School in Bielsko-Biała
Higher School of Banking and Law in Bielsko-Biała
Higher School of Administration in Bielsko-Biała
The University of Bielsko-Biala
Academy of Computer Science and Management in Bielsko-Biała
Location