About Poland
Poland is an extremely interesting, modern and dynamically developing country. Its history is remarkable as well. Since 2004 Poland belongs to the European Union and thanks to the localization the country has got a special place in the Union. Moreover, since 2009 the country belongs to the Schengen Area which is of great benefit for those who wants travel without a passport control.

Poland borders with seven countries: with Germany from the west, with Slovakia and Czech Republic from the south, with Ukraine, Belarus, Lithuania and Russia from the east. The border line is 528 km.
Tourist attractions
The northern part of Poland is dominated by marvelous lakes and lowlands whereas the southern part is full of uplands and mountains. The longest river in Poland is Vistula – 1047 km and the deepest lake is Hańcza with maximum depth of 108.5 m. 9300 lakes constitute one per cent of the total area of Poland.
The three main mountain ranges are: the Carpathian Mountains, the Sudetes and the Świetokrzyskie Mountains. The highest point in Tatras Mountains is Rysy, 2499 metres in elevation. The most famous peaks are: Świnica 2301 m (the High Tatras), the Kasprowy Wierch 1985 m and Giewont 1894m (the West Tatras), Babia Góra 1725, (the Beskids), Śnieżka 1602m (Karkonosze) and Łysica 610m (the Świętokrzyskie Mountains).
Particularly important touristic regions are: the shore of Baltic Sea with wide, sand beaches that are believed to be one of the most beautiful beaches in Europe, the Masurian Lake District – land of four thousand lakes, dense forests and canoe-friendly rivers, Małopolska Upland (also known as Lesser Poland Upland) with Polish Jurassic Highland, Świętokrzyskie Mountains, the Carpathian Mountains and the Sudetes that are hearts of winter sports and tourist trips.
The climate is mostly temperate throughout the country. In the north it is oceanic and changes into continental towards the south and east. Due to these variations and weather changeability it is possible to distinguish four major seasons: spring, summer, autumn and winter.
Voivodeships and major cities

In Poland there are 16 voivodeship. There is a list of them with its capitals: Subcarpatian ( Rzeszów), Lesser Poland (Cracow), Silesia ( Katowice), Opole (Opole), Lower Silesian (Wrocław), Lubusz ( Gorzów Wielkopolski), Grater Poland (Poznań), Lublin (Lublin), Łódź (Łódź), Świętokrzyskie ( Kielce), Mazovian (Warsaw), Podlaskie (Bialystok), Warmian-Masurian ( Olsztyn), Kuyavian-Pomerian ( Bydgoszcz), Pomeranian (Gdańsk), West Pomeranian (Szczecin).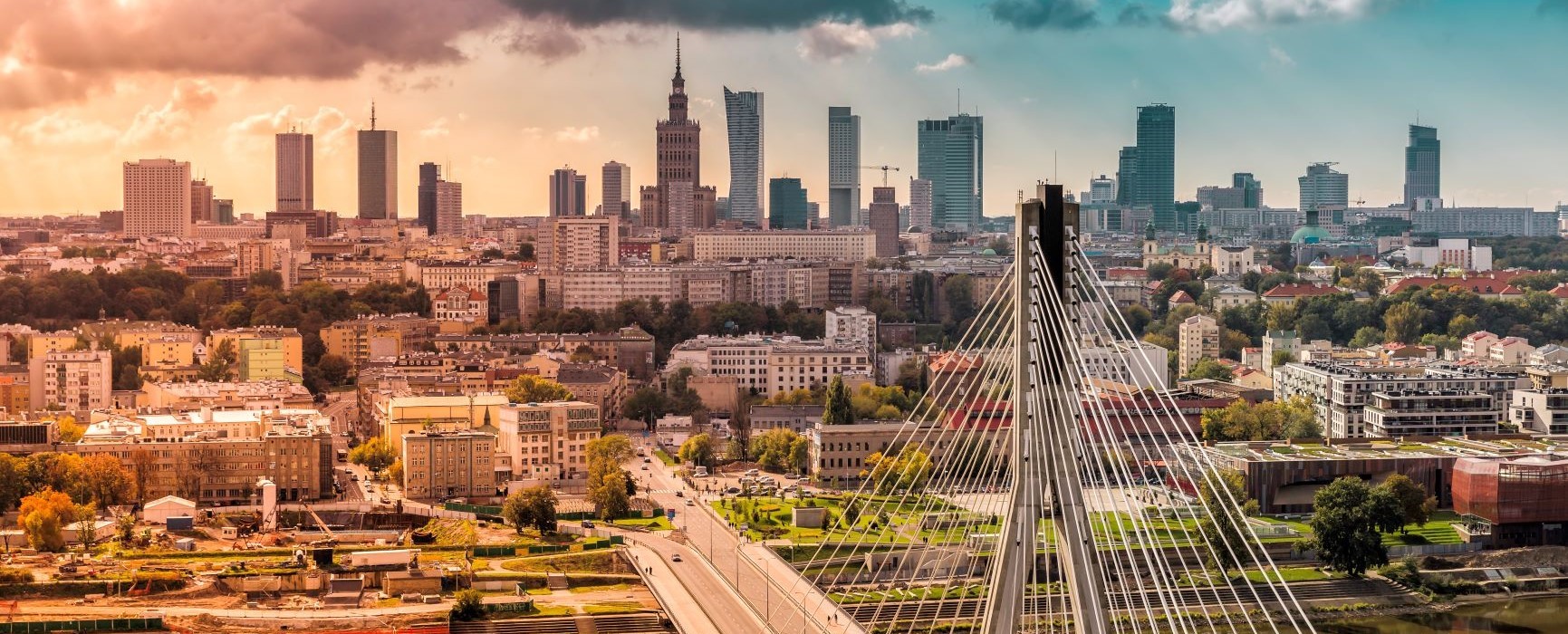 Traffic regulations
Wearing seatbelts is an obligation for drivers and all passengers with no exception. Children up to twelve are supposed to use booster cushions with special certificate. While travelling throughout Poland it should be remembered to turn on the lights. Using mobile phones is not allowed but this problem can be solved by using speakerphones or hands free. Drivers maximum blood alcohol content is 0,2 per mill and after breaching 0,5 mg/l the crime that leads to imprisonment up to two years is committed. Speed limit in Poland:
The built-up area – up to 50 km per hour
Beyond the built-up area – up to 90 km per hour
Two-lane expressway – up to 120 km per hour
single carriageway- up to 100 km per hour
highway – up to 140 km per hour
Alcohol consumption in Poland
Drinking alcohol in Poland is allowed for people above 18 years old (both low-alcohol drinks and hard liquors). The same story is with cigarettes. Drinking alcohol is forbidden outside certain areas (pubs, restaurants, beer gardens) but even in those places smoking is forbidden or there are special rooms with ventilation for smokers.
Customs and festivals
Poles cherish traditions and the enjoy celebrating. The most important church and national festivals: Christmas, Easter, the Day of Independence 11th of November, the anniversary of First Polish Constitution – 3rd of May. Popular are also: Women's Day (8 March), Mother's Day (26 May), Grandmother's Day (21 January) or Children's Day (1 June). During those festivals families meet together and very often souvenirs are given. From many maintain traditions it is worth to mention customs like: Andrzejki ("Little Andrews") – the last party before Advent when prophecies are made, or the First Day of Spring when the effigy of Marzanna is burning and drowning. Days off work are:
1 January – New Year
6 January – Epiphany
Second day of Easter
1 May – Worker's Day (national festival)
3 May - the anniversary of First Polish Constitution 1791
Corpus Christi – movable feast, always on Thursday
15 August – church feast (TheAssumption of the Virgin Mary)
1 November – All Saint's Day
11 November – the Day of Independence
25 December – first day of Christmas
26 December – second day of Christmas

Banks

There is a number of banks in Poland so it is vital to compare different offers. While deciding on setting up a bank account in a particular bank it is wise to take under consideration the availability of cash dispensers and fees for account maintenance. There is a list of certain banks:
PKO Bank Polski
Bank Pekao SA
Bank BPH
Bank Zachodni WBK
Credit Agricole Bank
Deutsche Bank
Alior Bank
Euro Bank
Getin Bank
Millenium Bank
The Schengen Area
Poland belongs to the Schengen Area since 2007 which is of great benefit for those who wants travel without a passport control. The Schengen Area presently consists of the following countries: Austria, Belgium, the Czech Republic, Denmark, Estonia, Finland, France, Greece, Spain, the Netherlands, Lithuania, Luxemburg, Latvia, Malta, Germany, Poland, Portugal, Slovakia, Slovenia, Sweden, Hungary, Italy, Norway, Switzerland, Iceland, Liechtenstein.
To enter to the Schengen Area countries non-EU nationals, including Poland, must have a valid travel document and a visa if they are required. Depending on the aim of the visit nonresidents may stay in Poland on the grounds of: a passport which validity exceeds at least three months the date of departure from Poland; a permission for temporary residence; a permanent residency. Citizens of countries with which the Republic of Poland signed bilateral agreements about visa waiver can cross the border possessing a passport only.